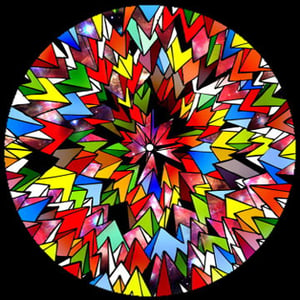 $

16.99
California based labels Ooohh! That's Heavy and Content collaborate with a limited 10-inch picture disc reuniting producers Gone Beyond and Mumbles. The project is entitled "A Duet For Space and Time" and is a sample-based ode to the influence of Space and Time on our daily lives.
New Mexico based beatsmith Gone Beyond begins the ascent to the depths of space with the cinematic "Collision Course". This is followed by "Sky Burial", a track that illustrates a breaking point from earth's atmosphere with its marching drums and dancing flutes. The voyage moves inward towards the soul with "The Cosmic Within Ourselves". After a point of reflection we are jolted by pounding breaks and soulful chants, taking us to "The Edge of Space".
Legendary producer Mumbles (best known for his work on Aceyalone's "Book of Human Language") combines high energy percussion, whirling frequencies and distorted guitar riffs, on "Time is Running Out". Moving away from the chaotic pace of daily living we enter a meditative state in the form of "Space Between Worlds". With its tantric poly rhythms, dusty vibes and faint voices, this 9-minute epic symbolizes the journey's end.
Limited to 350 copies, pressed on 180 gram vinyl. Picture disc original art is by Brooklyn based artist Shane "Dwarf Baby" Ingersoll.